Aero-Space Fasteners and Electronics Specializes in Engineered Fasteners, Electronic Components, Cable Assemblies, Castings, Plastics, Mechanical Hardware, Printed Circuit Boards, and More.
Established in 1963, Aero-Space is an AS9120 certified and factory authorized distributor. Through our large inventory and creative supply chain solutions, we partner with our manufacturers to provide the best customer service in the industry.
We are an authorized distributor for:
Accuride


Aero-Space is an authorized distributor for Accuride International Inc. headquartered in Santa Fe Springs, CA. Accuride began as a small tool and die shop in 1962 in South Gate, California, producing top-quality slides for tape drives and copy machines. In the late 1960s, Accuride developed ball bearing slides for metal office furniture. The company's design engineers then took on the wood furniture market, developing features such as breathing tabs to absorb tolerances in wood products.
Accuride slides are designed into a wide range of applications such as:
Fine furniture and cabinetry
High-end appliances
Electronic enclosures
Luxury automobiles
Utility vehicles
Industrial equipment.
For more detailed information regarding Accuride products, please visit: www.accuride.com
POP Avdel
Aero-Space is an authorized distributor for POP Avdel. Owned by its parent company STANLEY Engineered Fastening, the company has emerged as one of the world's leading fastener manufacturers.
The earliest concept of the POP rivet as a method for one-sided "blind" fastening was patented in 1916 by Major H.V. Wylie while working for British aircraft manufacturer Armstrong Whitworth. Later, between 1928 and 1934, the George Tucker Eyelet Company, a subsidiary of United Shoe Manufacturing Company, fully developed the blind POP brand rivet.
In the 1930s, the aviation industry began transitioning from wood to metal structures. The joining of these metal parts called for a new generation of fasteners and accompanying tools to replace conventional rivets, which required access to both sides of the part. Blind rivets provided the ideal solution because the installer only needed to access one side of the two parts being joined. The effectiveness of the POP riveting system was evidenced by the production of 3 billion rivets between 1939 and 1945. Countless British and American aircraft were assembled and repaired with blind rivets during World War II.
In close parallel with POP's success, Aviation Developments Limited was founded in 1936 to manufacturer a range of "speed" fasteners, specifically for the burgeoning aviation industry. Soon afterward, the company shortened its official name to Avdel and shortly thereafter introduced its Chobert Speed Fastening system. Employed during the war on many new aircraft, particularly fighter planes such as the famous Spitfire, the system still enjoys wide use throughout the world today.
The POP Avdel brand serves various industries, including:
Automotive
Commercial and Domestic Appliance
Building Construction
Metal Furniture
Computer
Medical Devices and Equipment
Lawn and Garden Equipment
Marine
For more detailed information regarding POP Avdel, please visit their website.
nVent
Aero-Space is an authorized distributor for nVent

Products. We are pleased to offer the following product lines under the nVent umbrella: Schroff, Birtcher and Calmark.
Schroff: A driven innovator since it was founded in Germany in 1962. It started with the development of a euro board subrack system that helped make the 19î standard universal. It continues with pioneering electronic infrastructure for sub-19î applications today. Collaboration to customize our architecture to your specific project, for example, the SchroffÆ front panels with custom cutouts and colors are available in as little as 5 days through FrontPanel Express which is part of the Schroff ServicePLUS program. Protection for your systems include:
Electronics Cabinents
Racks and Subracks
Shock and Vibration Resistant Solutions
Calmark/Birtcher: No other printed circuit board retention and mounting is specified more than Calmark and Birtcher. A comprehensive portfolio that includes over 3 million Wedge-Lok and Card-Lok retainer configurations to meet your project requirements are all backed by more than 30 years of design and development experience in PCB protection. When it comes to PCB protection, there's a reason the industry turns to Calmark and Birtcher. Designed to provide board retention, stiffening and thermal management for high shock and vibration applications, these products include:
PCB Connectors
Card and Wedge Loks
PCB Tainers and Guides
Heat Frames and Clamshell Conduction Cooled Assemblies
Hardware to assist with PCB Insertion, Extractions and Mechanical Keying
Now in stock: NEW High Thermal and High Clamp Force Card Loks to meet SWaP Requirements!
For more information regarding nVent Products, please visit http://schroff.nvent.com/en/schroff-na/Product-Printed-Circuit-Board-Hardware
RAF

Aero-Space is an authorized distributor of RAF Electronic Hardware. Since 1975 in Seymour, Connecticut, RAF Electronic Hardware has been the nation's leading supplier of electronic hardware including: standoffs, spacers, handles & ferrules, male/female standoffs, captive screws, retainers, jackscrews, precision shoulder screws, thumb screws, thumb nuts, swage standoffs, insulating washers, anti-rotation swage standoffs, swaging tools, and plastic circuit board supports.
In 2008, RAF joined with MW Industries Inc. (www.mw-ind.com) to become the nation's leading supplier of electronic hardware components serving a variety of industries including:
Computers
Telecommunications
Medical
Entertainment
Military/Aerospace.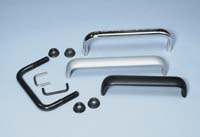 As a full service manufacturer, RAF offers a wide range of products for immediate delivery. Most catalog items are off the shelf and available for same-day shipment. RAF can also supply any customized products with small minimum order quantities and the in-house plating facility also enables a quick turn-around on plated parts.
For more information regarding RAF, please visit: www.rafhdwe.com
KATO®

Aero-Space is an authorized KATO® Fastening Systems, Inc. KATO® has been manufacturing and globally supplying CoilThread inserts since the early 1970's and is headquartered in Newport News, Virginia.
In the mid 1980's, KATO® revolutionized the helical coil screw thread insert market with the introduction of the CoilThread II: Tangless Inserts. Tangless CoilThread inserts and tools were so unique that they were awarded dozens of patents worldwide. Over the years, KATO® has expanded and broadened Tangless products to include a wide range of unified and metric thread sizes. KATO® also offers more installation tooling options than any other CoilThread manufacturer.
KATO® CoilThread inserts serve the following industries:
Aviation/Aerospace/Military
Automotive
Electronics
Industrial
For more information regarding KATO®, please visit: http://www.katofastening.com/
AVK

Aero-Space is an Authorized distributor for AVK. Currently Headquartered in Valencia, California, AVK was opened in 1983 to focus on the design and manufacture of blind installed threaded inserts and studs. To produce its blind installed threaded inserts and studs, AVK uses state of the art high-speed cold forming equipment and all aspects of our business are controlled and certified to the exacting requirements of ISO/TS16949 and ISO 9001 International standards.
AVK threaded inserts typical applications serve the following industries:
Aerospace/Military
Home/Commercial Appliance, Food Service and Refrigeration Equipment
Automotive, RV, Trucks and Trailer
Exercise/Recreation Equipment
HVAC
Lawn and Garden Equipment
Medical Equipment
Furniture
For more information regarding AVK, please visit: www.avkfasteners.com
FCI Electronics
Aero-Space is an authorized distributor for FCI Electronics. With a global footprint comprising of Asia, Europe, Middle East & Africa and the Americas, FCI Electronics is well renowned and respected for their technological leadership, as well as innovative connector and cable assembly solutions.
At FCI Electronics, they design and manufacture a wide array of hi-tech connector solutions for various market applications, including the following industries:
Automotive
Telecommunications
Data Storage
Consumer Electronics
Industrial and Medical Instrumentation
FCI places a heavy emphasis on both research and innovation. Every year, FCI invests approximately 5.5% of their annual revenue into R&D, focusing in the advancement of the next generation of high speed interconnects and power distribution. FCI R&D centers worldwide have registered thousands of patents and licensing agreements, developing some of the world's first innovation in connectors such as the Ball Grid Array Attachments and Shield-less High Speed Connectors. FCI constantly seeks improvements to their products, increasing solutions', overall cost effectiveness, precision and reliability. This ensures that FCI meets or even surpasses the ever changing needs and expectations of market trends.
For more detailed information regarding FCI Electronics, please visit: http://www.fci.com/en.html